The Houston (TX) Chapter of the Links, Incorporated
Scholarship
The Houston (TX) Chapter of The Links, Incorporated has served the Houston Community for more than 70 years. We are committed to leading the way to ensure our youth are academically successful. We have hosted annual workshops and receptions for graduating high school seniors, National Achievement Scholars, and provided financial support and mentoring to deserving students pursuing degrees at institutes of higher learning.
Since inception, more than $750,000 has been awarded. The program is supported by our chapter fundraiser, Boots and Bling, as well as donations from our corporate and educational partners and our chapter members. The Links Scholarship awards vary from year to year and award amounts are contingent upon the funding for the current year.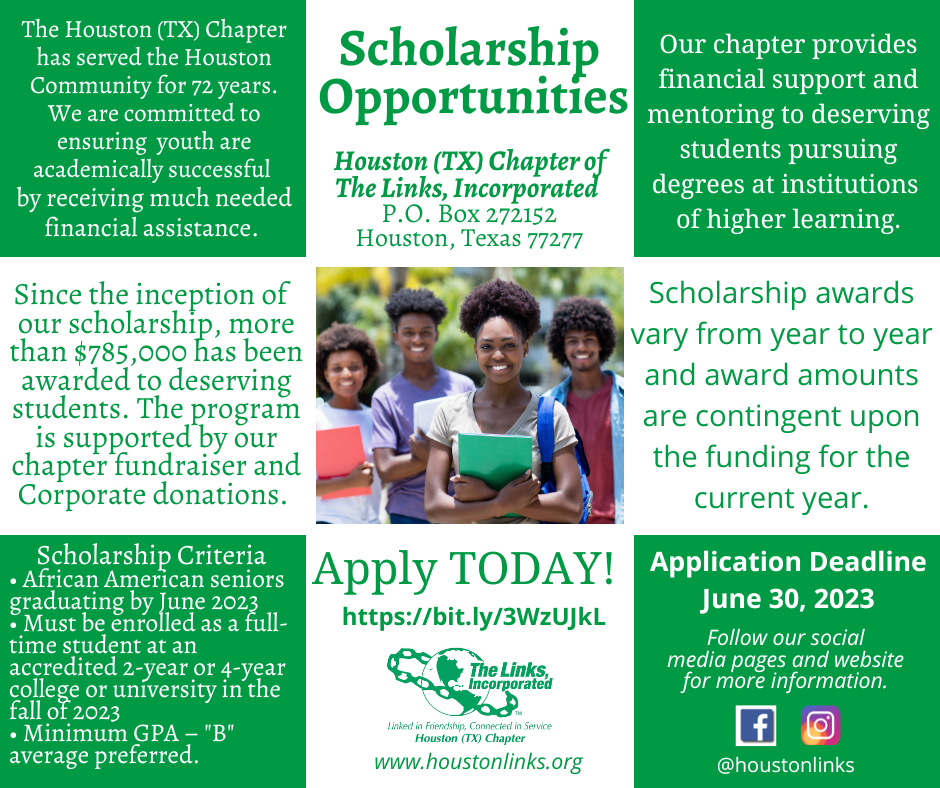 Scholarship Criteria
Applicant must be a senior/home school student of African American descent graduating by June 2023.
Applicant must enroll as a full-time student at a 2 or 4-year college or university in the fall of 2023.
Minimum GPA – "B" average is preferred. If your GPA is lower than a "B" average, please share any issues or obstacles.
Information Required
High School transcript
Two letters of recommendation (at least one letter from an educator- teacher, counselor, or high school administrator and a community leader- minister, scout leader, etc.
Recent photograph (head shot)
If you have any questions about this scholarship process, please email holscholarships@gmail.com.
Application
The online application https://bit.ly/3WzUJkL must be completed by June 30, 2023.