A Message From President Winslow
Greetings from the Houston (TX) Chapter of The Links, Incorporated. Thank you for visiting our website. We invite you to browse our website, follow us on social media, and look for opportunities to partner with us in the community.
In 2021, the Houston (TX) Chapter will celebrate 70 years of having a sustainable influence in the Houston area.  Being the oldest chapter in the Houston area and in Texas, our chapter has worked to become a pacesetter in community involvement.  The year 2020 has brought a new challenge to our organization in how we participate and support efforts to overcome the COVID-19 Pandemic.  The African American community has been adversely impacted by the downturn in the economy, susceptibility to virus, and maintaining flourishing businesses.  The Houston (TX) Chapter has been on the frontline in striving to drive negative curves in a positive direction.
Our chapter is committed to delivering impactful, sustainable and transformational community programs. Our programming initiatives are aligned with The Links, Incorporated five program facets which include Services to Youth, The Arts, National Trends and Services, International Trends and Services and Health and Human Services. Our chapter, through its five facets, provides programming related to Human Trafficking; Women's and Minority Health issues; STEM Programming; Art Appreciation and global reach initiatives through Haiti philanthropy.  Through the years, we have provided over $500K in scholarships to high school achievers.  In all facets, we must make sure we influence social responsibility in exercising our right to vote.
We are an organization built on a foundation of friendship and service, serving the Greater Houston metropolitan area as well as international areas in need.  We take great pride in serving our communities with excellence.
The Links, Incorporated founded in 1946 is one of the nation's oldest and largest volunteer service organizations of extraordinary women who are committed to enriching, sustaining and ensuring the culture and economic survival of African Americans and other persons of African ancestry. The international membership consists of nearly 15,000 professional women of color in 288 chapters located in 41 states, the District of Columbia, the Commonwealth of the Bahamas and the United Kingdom. The Links, Incorporated is built on the tenants of service and friendship and our organization contributes more than 1 million hours of community service annually.
Thank you for your interest in the Houston (TX) Chapter of The Links, Incorporated.
Yours In Friendship and Service,
Lorraine Winslow
President, Houston (TX) Chapter

Service With Impact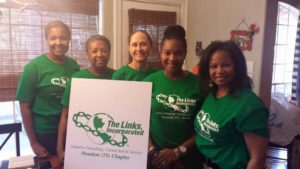 The Houston (TX) Chapter of The Links strives to be of service to the Greater Houston Area, executing sustainable programs through our five facet areas.
Scholarship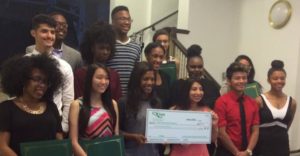 Driven by our commitment to assist youth in their goals of higher education, we award scholarships to deserving high school graduates in the Greater Houston area.
About The Houston (TX) Chapter
The Houston (TX) Chapter of The Links, Incorporated aligns with our national mission which is to empower the communities in which we work by increasing the number of sustainable and measurable programs; increasing collaborative partnerships; and extending our existing initiatives to include communities in need. View the video to the right to learn more about the history and legacy of the Houston (TX) Chapter